Android smartphone without Google: problems and advantages
A smartphone without Google is becoming a reality. Android has been an open-source platform, but many would like to see it offer less of the personal data collection that comes with running on "Google's Play." The advantages and disadvantages for users will be explored in this blog post.
The "list of phones without google" is a list of smartphones that do not use Google services. The list includes the advantages and disadvantages of these devices.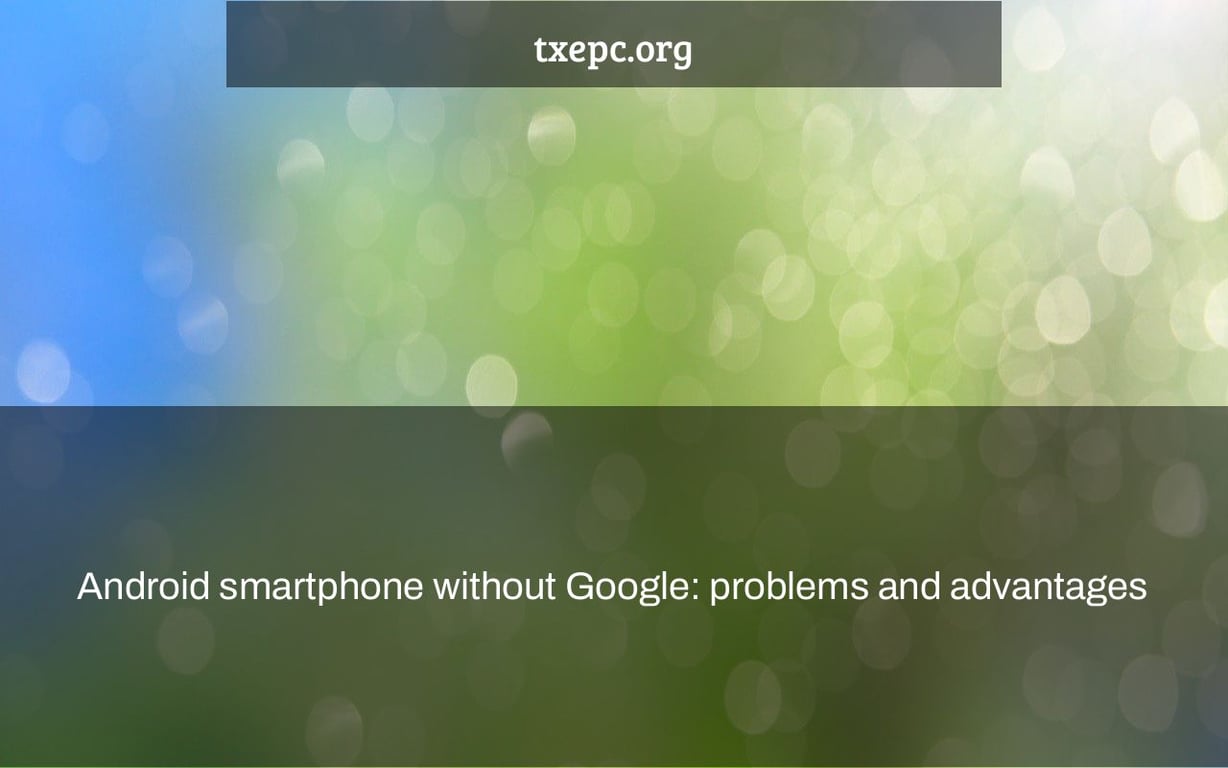 We can find Google services integrated as system applications on almost all Android phones, allowing you to instantly access the official Android app store (Google Play Store) and use all of the other services linked with your Google account (Find my phone , Google Assistant and so on). Can we actually utilize an Android phone without any Google services installed if we don't enjoy utilizing Google services or find the continual surveillance of our lives and habits annoying?
In the following guide, we'll show you the benefits and drawbacks of using an Android phone without Google, as well as what we can do to make a phone "Google free," that is, by completely disabling the ability to use Google services without sacrificing usability or suffering too much from a lack of apps developed by the Mountain View company.
ALSO READ -> All Google Apps for Android Phones
Without Google, you can use Android.
Although it may seem weird to use an Android phone without Google, considering its open source nature, the green robot's operating system was created without any Google services loaded (via the AOSP project). Following the release of a new version of Android, Google customizes the system by adding its services and making them available on the Pixel, its reference phones; other phone manufacturers can choose whether to install "pure" Android without any Google services or (much more conveniently) use the version of Android with the Google services already present, providing a good starting point for their own customized system.
This does not imply that Android is inextricably bound to Google: we may use it without Google services at any time; the option is always ours.
Advantages and disadvantages
The following are some of the benefits of using an Android phone without Google:
No advertising tracking: Google provides each phone with a Google account a unique identifier (user advertising ID), making us readily traceable from an advertising standpoint. This function cannot be disabled, and it is for this reason that Google distributes Android for free.
More performance: Google services are delivered through applications that are constantly active in memory and cannot be turned off, using a portion of the system resources every time the phone is turned on. On current phones, the effect is minor, but over time, the performance impact becomes more significant.
No microphone is always on: with the default settings, the voice assistant (and hence the microphone) is constantly on and might gather sensitive or valuable information in order to better monitor our Google advertising profile. We may also read our article on how to deactivate Ok Google and Voice Assistant on Android in this respect.
No location tracking: Google services monitor the position of the phone in real time as a security mechanism, so it can be located in the event of theft or accidental loss. The location history is also utilized for advertising reasons, such as determining where we travel and what we like, as well as generating the Google Rewards surveys. You may also read our tutorial on how to stop Google position tracking for more information.
The downsides are clear, but it's worth looking at the list below to see what issues we could encounter if we stop using Google services:
Google security updates will no longer be available: The operating system will no longer get Google-developed security fixes, which are only available on phones with an active and functional Google account. This has no bearing on system upgrades, although it does depend on the manufacturer.
Google Play Store isn't working: you can't download applications from the official Google store unless you have a Google account. Fortunately, as we shall discover later in the tutorial, there are many of choices.
Failure to recover lost or stolen phones: Google services enable you to keep your location history updated, but it is hard to retrieve a lost or stolen phone without active Google services.
Gmail, YouTube, Maps, and other Google services are no longer available as a result of abandoning Google services entirely. Of course, many of these applications will run in guest mode if we remove the Google account but maintain the system apps.
Failure to certify Google: Whether you don't have Google on your phone, you won't be able to use certain home-banking applications or receive the best quality in streaming apps (like Netflix), as shown in our tutorial to determine if our Android smartphone is certified.
Without Google services, Google Play Protect would not operate, increasing the risk of downloading viruses or other hazardous components when we download APK programs or click on questionable links.
We may decide whether to continue following the guide (e utilize android without google) or stick with Google-linked phones after assessing the benefits and drawbacks.
How can I uninstall Google services from my phone?
Because avoiding creating Google accounts is not enough, removing Google applications from a current Android phone requires considerable changes (the apps and the Google services framework are always present and active in memory). To really utilize a phone without Google services, we must either purchase one without them or substantially customize it with a Custom ROM.
Purchase a phone that does not have Google services.
All individuals who no longer want to be associated with Google need to do is get a Huawei phone.
The Chinese manufacturer has been barred from entering the United States, and all American businesses, including Google, are no longer permitted to supply services. Using a Huawei smartphone, we will find the Android system with the Huawey Gallery app store and manager instead of Google Play Store, no Google app and no framework linked to it, allowing us to use the phone with the alternative store or directly download the apps we want from third-party stores or through file APK.
The Huawei P smart 2021, which costs 200€, is the greatest Huawei phone available.
The Huawei HiSilicon Kirin 710A CPU, 4GB of RAM, 128GB of internal memory, quad 48MP back camera, 5000 mAh battery, fingerprint reader, and Android operating system sans Google are all included on this phone.
Those looking for an Android phone without Google's high lights can try the HUAWEI P40, which starts at 500 euros.
The Huawei HiSilicon Kirin 990 engine, 8GB of RAM memory, 512GB of internal memory, quadruple 50MP back camera, Wi-Fi 6, USB Type-C 3.1 connection, 3800 mAh battery, rapid charging, Dual SIM compatibility, and Android OS without Google are all included on this phone.
Installing a Custom ROM without GApps is possible.
If we already own an Android phone and want to uninstall all Google services, the only option is to install a Custom ROM, which will liberate us from any "chain" imposed by the Mountain View business. LineageOS, the best Android ROM, is the greatest Custom ROM that we can install on phones, as we discussed in the article Install LineageOS, the best Android ROM, on your mobile.
The installation procedure varies depending on the phone in use, but in most cases all we need to do is unlock the device's bootloader, install a new recovery for the system, and load the LineageOS file into memory, so that we can overwrite the old system and use LineageOS as the new operating system first of Google services, while avoiding installing the famous GApps (which also introduce Google services in Custom ROMs).
Read our articles How to Install an Android Custom ROM and How to Use ADB Sideload to Install ROMs, Updates, and Recovery for additional information.
Conclusions
It's not simple to give up Google services on current phones: it's no accident that Huawei lost a lot of its sales and reputation following the ban in the United States, which stripped it of all Google services. If we value our privacy and do not want to be watched by Google, we can always purchase a Huawei phone or install a Custom ROM like LineageOS.
Our guides Best voice assistants for Android and iPhone (alternatives to Google and Siri) and Better alternatives to Google applications are always on the same theme.
Watch This Video-
The "advantages and disadvantages of android" is a smartphone that does not have Google. The phone still has the same features as an Android device, but without the Google services. This makes it easier to use for those who are not interested in having their data shared with Google.
Frequently Asked Questions
Can a smartphone work without Google?
A: Yes, you can use a different browser for your phone. Additionally, some phones have an app called the Virtual Private Network (VPN) that is capable of bypassing restrictive firewalls and blocking Internet restrictions on certain apps like Facebook or Google Play Store.
Can Android be used without Google?
A: Yes, more and more people are turning to the Android operating system over Googles because of privacy concerns.
What phones are not controlled by Google?
A: The answer to this question is not available at the moment.
Related Tags
how to activate android phone without google account
list of huawei phones without google
phones without google or apple
android without google reddit
android without google 2020